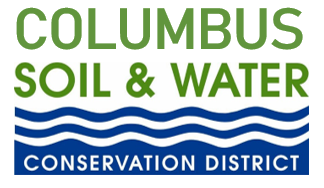 Our Mission:
The Columbus Soil and Water Conservation District's mission is to provide quality leadership and customer service for the citizens of Columbus County to promote protection and conservation of our natural resources.
What We Do:
We strive to provide technical and financial assistance to all landowners for the implementation of best management practices that will overall enhance our natural resources.
Our office staff is available to assist with conservation planning, assess drainage problems on agricultural lands, and provide more information on the rental of the no-till drill.
We currently are administering various programs that increase agricultural/conservation awareness and preserve our natural resources for future generations.
Programs Offered:
North Carolina Agriculture Cost Share Program (NCACSP):
The North Carolina Agricultural Cost Share Program (NCACSP) helps landowners and renters of established agricultural operations improve their on-farm management by using best management practices (BMP's). These BMP's can make farmers more productive while reducing the potential for polluting surface and groundwater. The NCACSP is a financial assistance program designed to protect water quality. It is administered by the NC Division of Soil and Water Conservation under the NC Department of Agriculture. Financial assistance is offered to farmers to share the cost of the installation of the BMP's.
Agricultural Water Resource Assistance Program (AgWRAP):
The Agricultural Water Resource Assistance Program (AgWRAP) serves to identify opportunities to increase water use efficiency, availability, and storage. The program helps landowners to establish best management practices (BMP's) that will conserve and protect water resources, increase water quality, and increase water storage for agricultural use. Landowners participating in the AgWRAP program will be directly contributing to the long-term resilience and sustainability of agriculture in Columbus County, North Carolina.
Columbus County Beaver Management Program:
The Beaver Bounty Program serves as a resource for Columbus County landowners and licensed beaver trappers. The staff here will serve as the communication liaison between landowners and licensed beaver trappers. There is no cost to landowners for this service. The Columbus Soil & Water Conservation District will facilitate landowners and trappers in the application process and will help landowners find a prospective trapper for their area. Thus, if you are a Columbus County landowner and need assistance in trapping beavers or are a licensed trapper that would like to be added to our list, please contact the Columbus Soil and Water Conservation District.
Columbus County Voluntary Agricultural Program (VAD):
The purpose of the Columbus County Voluntary Agricultural District Program (VAD) is to encourage the "agricultural values and the general welfare of the county and more specifically, increase identity and pride in the agricultural community and its way of life; encourage the economic and financial health of agriculture, horticulture, and forestry; and increase protection from non-farm development and other negative impacts on properly managed farms". For more information about becoming a Voluntary Agricultural District member, please call the Columbus Soil and Water Conservation District.
Columbus VAD Digital Land Records
NC ADFP/Columbus County Farmland Preservation
The purpose is to address issues facing farmers and citizens of the county both now and as a guide for a future healthy agriculture community. We strive to encourage long-term policy formation that supports agriculture and also provide a framework guide for local programs regarding specific agricultural and community economic development and land use initiatives
Equipment Rental/Sales Program:
The Columbus Soil and Water Conservation District in Whiteville, NC has for rent a John Deere 10 ft. No-Till Drill.  No-till planting allows seeds to be planted with minimal disturbance to the soil surface and eliminates the need for conventional cultivation. This method allows the residue from previous crops to remain on the soil surface, thus protecting it from the elements that cause erosion. Rental is eight dollars ($8.00) per acre, or a minimum charge of fifty dollars ($50.00) per day.
Board of Supervisors
The regular meeting of the Columbus Soil & Water Conservation District Board of Supervisors is held the first Thursday of each month at 8:00am in the Conference Room of the Ag. Service Center at 45B Government Complex Rd. If that day falls on a holiday, the meeting will be held on the second Thursday at the same time and place.
Office Hours: 
Monday - Friday  8:00am - 5:00pm
45 Government Complex Road
Whiteville, NC  28472
(910) 642-2196 Extension 3